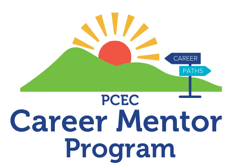 The PCEC Career Mentor Program serves many school districts in McKean and Potter County.
The purpose of the Career Mentor Program is to provide information and resources to parents and students of both public and private schools of Potter (McKean) Counties, to establish career paths and connections before the students exit from school and to track their progress after leaving school for the first five years.
School districts we currently serve include:
Austin Area School District
Coudersport Area School District
Kane Area School District
Northern Potter School District
Oswayo Valley School District
Otto-Eldred School District
Port Allegany School District
Seneca Highlands Career and Technical Center (CTC)
Smethport Area School District
---
Career Mentor Responsibilities:
Assist school counselors with career activities for grades K-12.
Assist school counselors in tracking information for Future Ready Index requirements.
Help school counselors to develop relationships with local businesses to provide opportunities for job shadowing, apprenticeships, internships, guest speakers, co-op, capstone, mock interviews, and more.
Help school counselors to facilitate job shadows, job site visitations, college fairs, career fairs, and job fairs for students.
Help counselors work with transition coordinators and other entities for special needs students' career planning.

---
Additional Career Mentor Services:
Senior Exit Surveys. Career Mentors assist school counselors with completing end of school year surveys with graduating high school seniors. The surveys are completed again at 2 years and 5 years post-graduation.
Guest Speakers. Career Mentors coordinate and host guest speakers within the school environment to provide the students' knowledge about a specific career (education, salary, duties, etc..). These presentations help the students identify careers of interest and ones they would like to explore further.
Guest Speaker Event: Coach Darrell Andrews, Motivational Speaker
Job Shadow Experiences. Career Mentors assist school counselors in facilitating job shadow experiences. As a result of completing job shadow experiences, students have been awarded scholarships, offered internships, and summer employment.
The Career Mentor Program has launched an ongoing video project, Career Connections. Discover more on the Career Connections page, or on our YouTube channel!
---
For more information on the Career Mentor Program, please contact the Education Council at

(814) 274-4877

.
If you are interested in becoming a Career Mentor, please visit PCEC Employment Opportunities or contact PCEC Coudersport at

814.274.4877.